Meleah is so wonderful. I had a gala to attend and I needed Hair and Make-up done. I got a French twist that was absolutely gorgeous. I also had make-up that was so perfect I didn't even recognize myself. If you need Hair & Make-up done GO HERE!!! Overall rating A++++++.
Meleah did my make-up for a photo session a year ago, and the results were amazing. So I kept wanting to make an appointment to get a make-up lesson but put it off for a year, but finally did. I was so happy I did – I learned so many little tricks that I never knew before! Even using the same products I had before, I got much better results. And who knew where I was supposed to contour or add blush so it looked natural! Apparently not me before this lesson! I learned so much, and Meleah does not push any products on you but I bought a bunch of things because they worked well and looked good, at reasonable prices. She showed me multiple ways to play up my eyes too. I feel more confident in putting on make-up and am experimenting a bit more with colors and creating different looks. I highly recommend her!
Make-Up Application & Hairstyling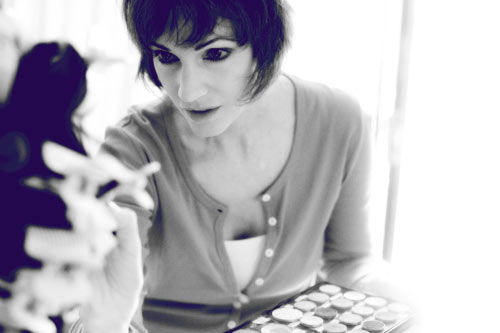 I am an up and coming model and went to Meleah for my portfolio shoot. She created so many different looks that I could never have done on my own. She is a master with hair and made me look like 5 different people!
View Video
Getting your make-up and hair professionally done for an important event can make you feel so special. Holiday parties or any special event are a great reason to look your very best.
Fashion shoots are a special thrill for me. I have been in the fashion industry as a model and stylist for over 2 decades and I love to help models of varying degrees of experience create beautiful images.
Rates & Booking
In studio (North Park):
Hair & Make-up $150-200
Make-up only $85-125
Hair only $85-125
On location:
If you're looking for make-up and hairstyling for a special event or photo shoot, fill in the contact form with as many details as you can and I will send you an estimate.
Make-Up Instruction & Makeovers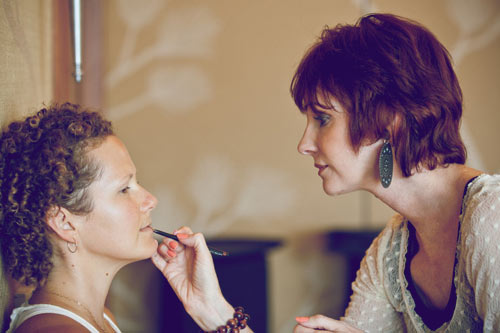 I just wanted to tell you that I really like my new make-up and the color matching you did for me! I rarely wear make-up (I work at home, and when I'm out, I'm often just doing sports so not getting all dolled up then!) but when I do need to wear it, I really like it! I also wanted to say that coming to your home, picking the color in natural light, and just the whole casual atmosphere is really refreshing. Sure beats trying to pick a color from a cardboard swatch (drug store) or by very unnatural lighting (department store)! Thank you again. I love the product, and the whole experience!
View Video
Make-up can transform your face. When applied properly, it can take 10 years off. Applied improperly, it can add 10!
Cosmetic companies have grown and improved over the years. Products are better than ever. The problem is there are too many choices. How do you know what works for you?
Professional advice has become essential. You need help wading through the "hype" and finding what is right for you.
We'll spend approximately two hours together and the result will be more confidence and a better understanding of your face. We'll take the guesswork out of it. You will be able to achieve several looks quickly and efficiently. People may comment on how much happier or well rested you look.
Your average application time in the morning will be 5-10 minutes. Your make-up will last all day with minimal touch-ups.
My philosophy is:
Let's make you look good, not your make-up.
I don't have a magic wand, but people say my brushes perform miracles.
I look forward to speaking with you soon. Workshops are available via Zoom and soon in person.
Rates & Booking