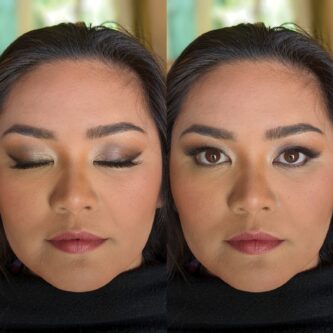 This bride was so much fun to work with. We did lashes, winged eyeliner and a soft lip. She looked beautiful. To achieve this look, I used these products from my line:
-Face: Matte Foundation in "Tender Beige" and Translucent Loose Powder in "Neutral"
-Brows: Brow Blender in "Soft Taupe" – this is a really cool product because it draws on the brows softly and has a spoolie brush on the other end to blend brows just the way you want them. It is almost impossible to make a mistake with this great tool.
-Eyeshadow: Mineral Eyeshadow in "Bauble" on the inner corner and brow bone. Crease was Mineral Eyeshadow in "Cashmere". Outer corner was "Teak" Mineral Eyeshadow and, for a pop of color, we used Mineral Eyeshadow in "Concord" to accent her beautiful brown eyes.
-Cheeks: Cheeks were done with Mineral Blush in "Teaberry" and "Soft Tan" Soft Focus Powder as contour (My go-to for perfect contour color)
-Lips: "Galina Street" Satin Lipstick with "Neapolitan" Waterproof Gel Lip Liner.
-To finish this look, add strip lashes and a beautiful black winged eyeliner with "Noir" Gel Pencil.
My personal philosophy is that makeup should not overshadow the person. Sometimes makeup can be so overdone that it looks like a painting and you can hardly see the girl underneath. Don't get carried away with creating unnatural looking brows or eyeliner that stands out so much that it's the first thing you see. When you walk into a room, people should see you first for who you are, not your makeup.
If you have any questions about this look or techniques, or if there are any looks you'd like to see in the future, comment and let me know.
If you'd like to receive tips and tricks on beauty, health and fitness, click HERE to subscribe.
For my latest work and a look behind the scenes, follow me on Facebook, Instagram and Pinterest.