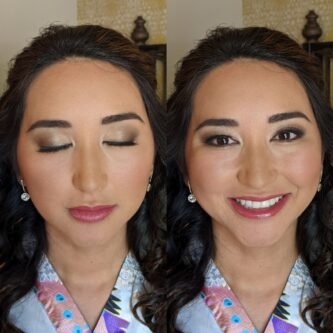 Beautiful dramatic makeup for a bride. To achieve this look, I used these products from my line:
-Foundation: Long Wearing Matte Foundation in "Vanilla" – *Pro Tip:* Set it using loose translucent powder pressed into the skin with a velour puff, then brush down the excess and your foundation will be perfect for several hours
-Cheeks: Cheeks were contoured with "Soft Tan" Soft Focus Powder; this particular shadow can be used to contour the face on fairer skin tones and as an eyeshadow so I used it in her crease as well.
-Blush: Blush was "Coral Sun" Mineral Blush which has a golden natural highlight built in.
-Brows: Blender Pencil in "Dark Taupe" – this is a pressed powder pencil which gives a natural hair-like finish to the brows
-Eyes: Eyes were a classic glamour style with the inner corners highlighted with "Bauble" Mineral Eyeshadow, blending into "Cashmere" Mineral Eyeshadow and deepening at the corners with "Truffle" Matte Eyeshadow. To finish, I always like to water line because it gives the eye more pop without a heavy look so I used the Gel Liner in "Noir" to line the inner eyelids.
-Lips: This one was Satin Lipstick in "Newbury Street". This color is part of my new lipstick line. I just reformulated most of my lipsticks so check out the satin lipsticks and cream lipsticks; they are all new. **Most of the other formulas are being discontinued slowly so if you have a favorite, order now while you can.** If you like this soft, sexy type of lip but want something more cool toned try "Thames Street" in the same Satin formula.
Any questions about this look or techniques or if there's any looks you'd like to see in the future, comment and let me know.
If you'd like to receive tips and tricks on beauty, health and fitness, click HERE to subscribe.
For my latest work and a look behind the scenes, follow me on Facebook, Instagram and Pinterest.