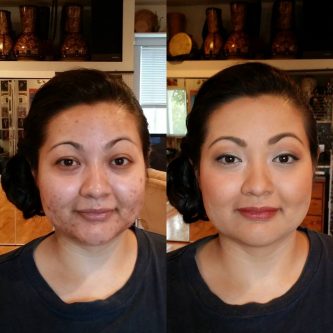 Almost every skin problem can be covered with the correct foundation. For this lovely bride, I used "Almond" Matte Liquid Foundation followed by "Almond" Stick Foundation and set it with Translucent Powder in "Neutral" for a flawless complexion. She wanted a smoky eye so I used natural brown, gray and black tones with a golden highlight – Mineral Eyeshadow in "Cashmere" and "Teak", Matte Eyeshadow in "Black" with Gel Eyeliner in Noir. The highlight for the inner corner and the brow was "Gold Minx" and "Bauble" Mineral Eyeshadow.
Cheeks were contoured with "Soft Tan" Soft Focus Powder and "Teaberry" Mineral Blush. This blush has a very unique quality; it is a blush and highlighter in one. It gives a golden glow to the top of the cheekbone naturally. So many people misuse highlighter these days; it should be a subtle highlight on the top of the cheekbone, not a heavy handed streak. Lips are one of the best colors ever for beautiful photographs, "Jada" Luxury Matte Lipstick with "Cappuccino" Automatic Lipliner.
If you have any questions about this look or techniques or if there are any looks like you'd like to see in the future, comment and let me know.
If you'd like to receive tips and tricks on beauty, health and fitness, click HERE to subscribe.
For my latest work and a look behind the scenes, follow me on Facebook, Instagram and Pinterest.