Do you want to: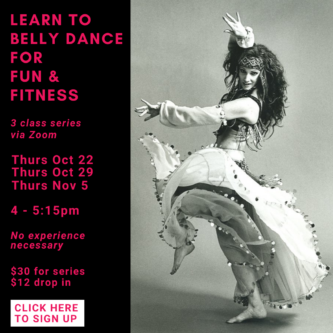 -gain more body awareness?
-embrace your femininity?
-feel more graceful and confident?
-build strength, muscle control and coordination?
-find an alternative to a traditional workout?
Try Belly Dance!
If you have always wanted to try Belly Dance, now is your chance! This class is for beginners and will get your body in better condition with just 3 classes. Belly Dance is an amazing way to move while building strength, toning the body and having fun! Dance uses more integrated muscle movement and triggers the "happy" response. By the end of class, you will feel exhilarated and have a more positive body attitude.
No experience necessary and preferred! This is your chance to try something new. (Know how to belly dance already? Invite your friends who don't).
If you're ready to sign up, click here or read on for more info.
When you join my class, you will be in an encouraging and positive environment. We laugh a lot and my super power is the ability to explain and break down each movement so every person understands and learns.
In this 3 part series, you'll learn the basics of Belly Dance plus get a killer workout including:
*Beautiful poster and alignment
*Graceful isolations and flow
*Strengthen abs with undulations
*Fun with shimmies
*Dance drills for endurance
Curious about the experience? Check out class video below…and a little performance clip.
Classes are 4pm – 5:15pm on Zoom.
Thursday October 22
Thursday October 29
Thursday November 5
Limited spots available
$30 for the complete series
$12 drop in
Class link will be sent the morning of class
Here's a class sample:

Performance clip:

Ready to sign up? Click here.
As always, I am here to answer any questions you may have. Comment below, contact me through my contact form here, call me at 619.280.8424, text me at 619.822.8424 or email me directly at [email protected]. I am also available via Zoom, Skype and more.
If you'd like to receive tips and tricks on beauty, health and fitness, click HERE to subscribe.
For my latest work and a look behind the scenes, follow me on Facebook, Instagram and Pinterest.